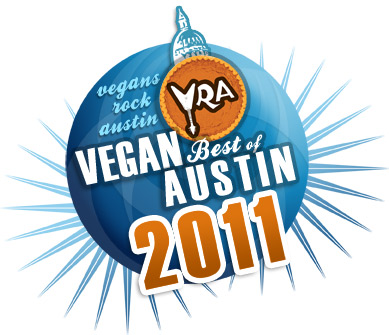 The results are in! Congratulations to all of the winners(we'll be contacting you soon to deliver your certificate/graphics)!
We had an incredible number of people participate in our first annual Vegan Best of Austin poll, and we sincerely thank you guys for being as excited about Austin's awesome vegan options as we are.
To all of the nominees and winners- thank you from the bottom of our hearts for keeping Austin vegan-friendly and for offering amazing plant-based food for both vegans and non-vegans alike to enjoy. It's because of you that Austin is such a welcoming and diverse town for us to call home. On to the winners!
Disclaimer: There are inherently preparation situations that we cannot personally vouch for at establishments which also serve meat. In addition, menus frequently change, so please doublecheck with your server to confirm if certain items are vegan or prepared to your particular comfort level.


2014/04/25 7:30pm
VRA Craft Night

2014/04/27 11:30am
Austin Worldwide Vegan Bake Sale


In need of cycling bu...
replied by
jared
@ 5:06pm ...

California Pizza Kitc...
replied by
jared
@ 4:44pm ...

Walnuts improve chole...
posted by
Ross
@ 9:16am ...